Land west of London Road, St Ippolyts
The scheme will provide 62 new homes in a mixture of 1-4 bedroom houses and apartments. These will be built at a density of 15.1 homes per hectare, a similar density to the neighbouring homes on Waterdell Lane and other comparable development sites and therefore deemed to be appropriate for this site.  25 of the new homes (40%) will be affordable homes, in accordance with North Hertfordshire District Council's emerging Local Plan policies and discussions with the Council's housing team.

A simple palette of building materials is proposed including red brick, black and white weatherboarding and ivory render, with locally-inspired details such as bay windows, chimneys and door canopies.

All 62 of the homes will be two storeys in height, but the scheme has been designed to create a varied and interesting street scene through a mixture of house types and building sizes, with larger, detached homes to the south and west and smaller semi-detached and terraced properties to the north.

Traditional building forms can be found throughout Gosmore and St Ippolyts, including pitched roofs, projecting porches, brickwork detailing and varying window styles, and a number of these details have been incorporated into the designs.

Three areas of public open space are proposed. In the centre of the site a small landscaped Local Area of Play (LAP) will be created adjacent to the Public Right of Way, catering for children up to the age of 6 with low-key play equipment, with seating for guardians.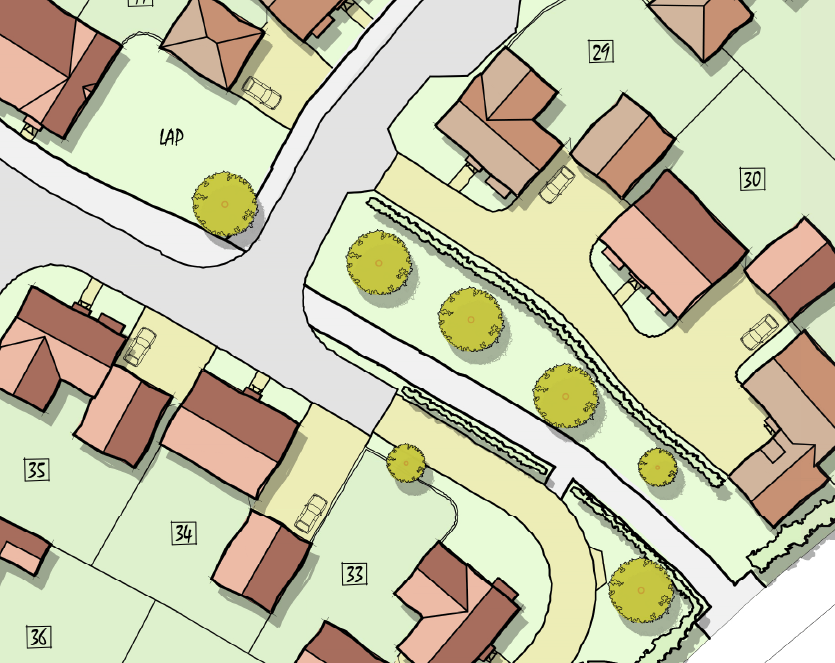 The play area proposed at the centre of the site, adjacent to the Public Right of Way
To the south-west another area of public open space is proposed, with new tree planting and grassland. This will offer a considerable area for recreation and informal play.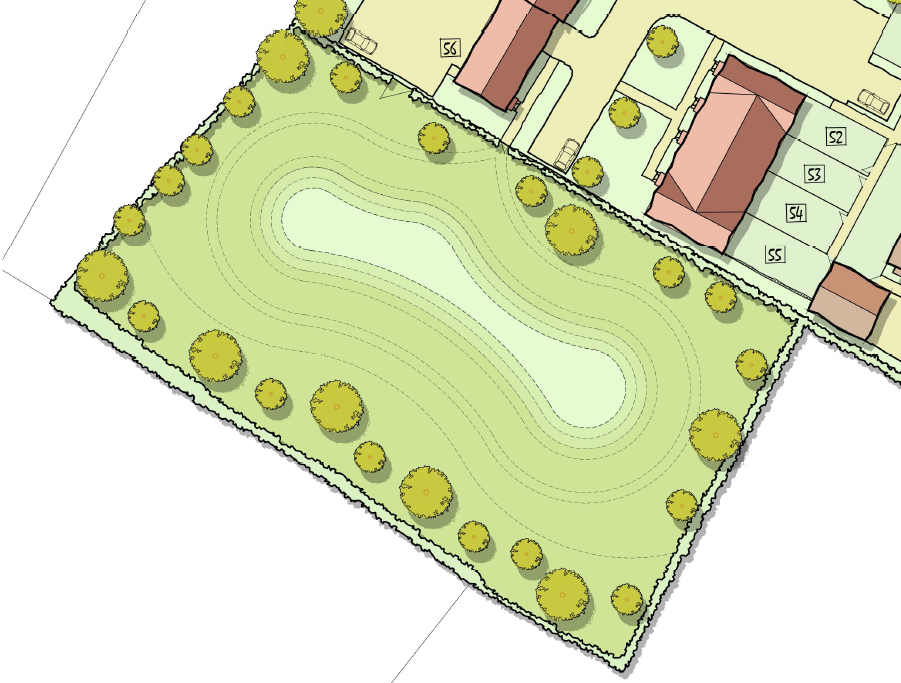 The area of open space proposed for the south-west part of the site
In the eastern corner of the site, the Ice House will be retained, as well as the strong surrounding landscape of mature trees on the corner of London Road and Half Handkerchief Lane.
To protect the setting of the Ice House further, a large 'dry' attenuation pond will wrap around the Ice House on its northern and western sides, creating an attractive area of public open space for this part of the site, as well as collecting surface water run-off from the site during periods of heavy rainfall (click on the Drainage page for more information).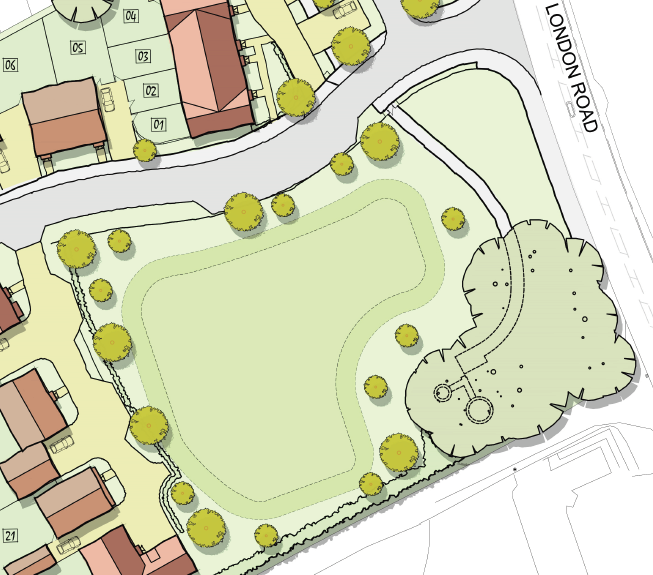 The proposed attenuation pond adjacent to the Ice House